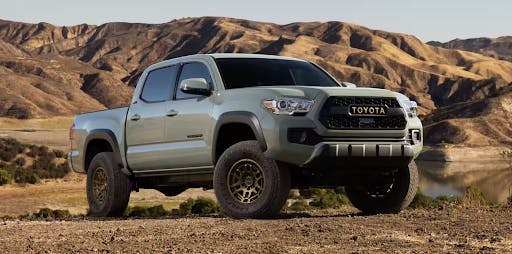 Get Pre-Qualified for a Toyota Tacoma
Unleash your spirit of adventure with the powerful, reliable, and ever-popular Toyota Tacoma. Over the years, this mid-size truck has cemented its position in the hearts of drivers due to its robust build and unparalleled performance. 
Visit Lake Charles Toyota today and explore the opportunity of pre-qualifying for a Tacoma and making your truck ownership dream a reality. Don't just imagine the thrill – experience it first-hand with a test drive today!
Fueling Adventure: Power and Performance of the Tacoma

The Toyota Tacoma is more than just a truck – it's a testament to the pinnacle of automotive engineering, blending power and performance in a perfect symphony. Nestled beneath its robust frame lies a potent V6 engine, serving as the beating heart of the Tacoma. This powerplant delivers outstanding horsepower and torque, giving the Tacoma exceptional towing capacity. Whether you're ferrying heavy equipment across town or embarking on a weekend off-road adventure, the Tacoma's robust performance always impresses.
The allure of the Tacoma doesn't end there. For thrill-seekers, the Tacoma offers optional four-wheel-drive variants with cutting-edge features like Multi-terrain Select and Crawl Control. These systems expertly navigate rocky trails and steep inclines, transforming challenging terrains into exciting playgrounds. With the Tacoma, you can conquer every landscape with unparalleled confidence and zest for adventure.
Enhancing your driving experience further, the Tacoma boasts an advanced suspension system designed to balance durability and comfort. This system effectively absorbs road shocks, offering a silky-smooth ride even on bumpy terrains. The adaptable powertrain matches the impressive suspension, providing various driving modes to meet your needs. Coupled with the comprehensive towing package – including a class IV towing hitch, a transmission cooler, and Trailer-Sway Control – your towing tasks become seamless and worry-free.
A Vision of Power: The Tacoma's Striking Exterior Design
Embodying a perfect blend of bold aesthetics and rugged charisma, the Toyota Tacoma impresses at every angle. The confident front grille and sculpted lines cascading down its muscular body project an image of power and assurance. Its high-strength steel frame guarantees a formidable and enduring structure, a testament to Toyota's commitment to quality. Complementing the robust construction is an array of sleek color options, amplifying the Tacoma's visual appeal and making it a sight to behold on any road.
An easily accessible lower tailgate unveils a composite bed designed to accommodate many cargo needs. Enhanced with movable tie-down cleats and an innovative deck rail system, the Tacoma allows for flexible cargo configurations, ensuring your gear finds its place, no matter the size or shape.
The Tacoma offers a hard tri-fold tonneau cover to enhance functionality further. This sturdy addition provides a secure, weatherproof space to stow your equipment. This feature ensures your gear remains safe and dry, regardless of weather or terrain. The Toyota Tacoma beautifully marries captivating design and pragmatic functionality, forging an unmissable presence on the road.
Embrace the Comfort: The Tacoma's Spacious and Luxurious Interior
Embrace a symphony of comfort and cutting-edge technology as you enter the Toyota Tacoma. The cabin, designed to be your sanctuary on the go, is spacious, whisper-quiet, and furnished with ergonomic seating and premium upholstery. Regardless of the journey's length or the terrain you traverse, you're promised a comfortable ride. With generous legroom and highly adjustable seats, the Tacoma accommodates passengers of all sizes, ensuring each journey is as enjoyable and relaxing as the destination.
For technology lovers, the Tacoma serves as a mobile command center. At the heart of this technologically advanced cabin is the Entune infotainment system. Your connectivity and entertainment needs are covered with seamless navigation, Apple CarPlay, Android Auto, and a premium audio system. The Tacoma keeps you plugged in, whether you're catching up on podcasts, navigating unfamiliar streets, or jamming to your favorite tunes.
To further enhance your driving experience, the Tacoma offers a range of smart storage solutions. Innovative features like under-seat storage compartments provide ample space for your belongings, maintaining a clutter-free cabin. In the Toyota Tacoma, convenience comes standard, creating a hassle-free driving experience that caters to your every need.

The Tacoma's Safety Net: Your Shield on the Road

In the realm of safety, the Toyota Tacoma stands tall, fortified by Toyota's unwavering commitment to the well-being of its passengers. The Toyota Safety Sense P (TSS-P) leading the charge is an intuitive suite of advanced safety technologies that come standard in the Tacoma. With this suite, you are equipped with innovative features such as the Lane Departure Alert system, which monitors your lane position and warns if unintentional lane deviation is detected, helping prevent potential accidents.
The TSS-P suite includes the Pre-Collision System with Pedestrian Detection and Dynamic Radar Cruise Control. The former uses advanced sensors to detect potential obstacles or pedestrians, sending alerts and applying brakes when necessary to avoid a collision. The latter automatically adjusts your driving speed to maintain a preset distance from the vehicle ahead, making highway driving safer and more comfortable.
The Tacoma's advanced airbag system, robust vehicle stability control, blind-spot monitoring, and rear cross-traffic alert system complement these features to collectively create a protective shield around you and your passengers, offering peace of mind whether you're weaving through bustling city traffic or embarking on an off-road adventure. With its comprehensive safety features, the Toyota Tacoma ensures that every journey you take is underpinned by confidence and safety.
Test Drive a Toyota Tacoma Today at Lake Charles Toyota
Embrace the thrill of driving a Toyota Tacoma. At Lake Charles Toyota, we are more than ready to assist you in making this dream a reality. Experience the Tacoma's power, comfort, and safety features in person with a test drive today!
We make owning a Tacoma even easier with our helpful Finance Center. Our team is dedicated to assisting you in pre-qualifying for a Tacoma, guiding you through a stress-free process. Our Service Center, staffed by expert technicians, offers premium care and maintenance services to keep your Tacoma in peak condition.
Don't wait. Visit Lake Charles Toyota today and make the Toyota Tacoma yours!
Back to Parent Page