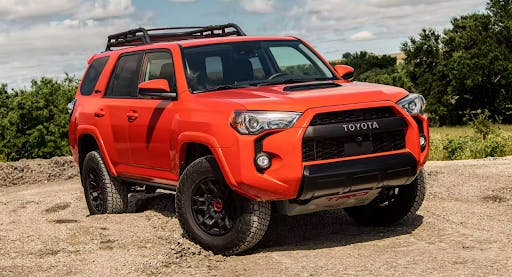 Roam Freely in a Toyota 4Runner
Discover freedom on the open road with the Toyota 4Runner, renowned for its rugged design and unmatched reliability. Toyota's legacy, rooted in over 80 years of impeccable craftsmanship, consistently delivers high-quality and innovative vehicles that stand the test of time. This commitment to excellence has propelled the brand into a league of its own, garnering a loyal fanbase across the globe. 
At Lake Charles Toyota, we invite you to experience the thrill of this powerhouse SUV. Let us help you embark on your next adventure.
Power and Performance Unleashed: The Toyota 4Runner
Infused with an indomitable spirit of adventure, the Toyota 4Runner is a remarkable fusion of strength and performance. With a heart-pounding 4.0L V6 engine, it revs up an extraordinary driving experience, making every journey an adrenaline-charged adventure. This powerhouse churns out a remarkable 270 horsepower and 278 lb-ft of torque, ensuring quick acceleration and robust towing capabilities. Moreover, the 4Runner, despite its superior power, impresses with its sustainable fuel efficiency.
The 4Runner further stands out with its part-time 4WD system equipped with Active Traction Control. This state-of-the-art drivetrain can traverse any terrain with the utmost confidence and control. From sandy coastlines to rugged mountain terrains, the 4Runner ensures smooth navigation, transforming every ride into a seamless voyage of discovery. This all-terrain capability demonstrates the 4Runner's readiness to embrace both the untamed and the unpredictable.
The 4Runner's formidable body-on-frame construction, typically a feature of high-end off-road vehicles, ensures it stands resilient against the most challenging landscapes. Its sturdy structure effectively absorbs and diffuses impacts, maintaining passenger comfort even in off-road conditions.
Crafted to Dazzle: The 4Runner's Exterior Excellence
The Toyota 4Runner's exterior immediately showcases the meticulous craftsmanship that goes into every inch of this SUV. The bold, aggressive grille catches the eye, providing a dynamic first impression. This impressive facade is complemented by high-intensity discharge headlights, which are aesthetically pleasing and provide unrivaled illumination, ensuring optimal visibility under all conditions.
The 4Runner's sleek, aerodynamic body is more than just a marvel to look at; it's a key component in its functionality. Every curve and line has been meticulously designed to reduce wind resistance for a smooth, comfortable ride, regardless of speed or conditions. This aerodynamic design improves fuel efficiency so that you can cover more ground on your adventures.
Beyond aesthetics and aerodynamics, the 4Runner has been designed for the demands of rugged terrain. The SUV has heavy-duty skid plates to protect the engine and fuel tank from damage during off-road escapades. Large 17-inch alloy wheels, wrapped in all-terrain tires, provide elevated ground clearance, crucial for navigating rocky paths or steep inclines.
The Ultimate Road Trip Companion: Unveiling the 4Runner's Interior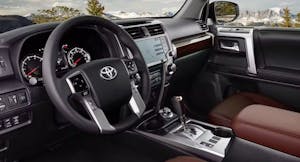 Venture into the Toyota 4Runner, and you'll be welcomed into a sanctuary of high-grade comfort and elegance. The roomy interior, woven with opulent materials, accommodates up to seven passengers easily, delivering an experience akin to a home away from home. Each seat has been engineered to provide maximum support and comfort even on long journeys, ensuring that every trip is a delight, not a chore. The considerable cargo area also presents ample space for all your adventuring equipment.
Beyond its spaciousness and comfort, the 4Runner is a tech enthusiast's dream. The cockpit is a futuristic blend of convenience and entertainment with cutting-edge technologies. Stay connected with the outside world through seamless integration with Apple CarPlay and Android Auto, allowing you to access your favorite apps, navigation, and music without missing a beat. The large, user-friendly touchscreen interface is the hub of this technological wonder, putting a world of connectivity at your fingertips.
Further enhancing your travel experience, the Toyota 4Runner includes a premium audio system that is sure to impress audiophiles. Experience your favorite tunes as never before, with crisp, immersive sound filling the cabin. Each musical note, every line of dialogue from your favorite podcast, is rendered with impeccable clarity, turning every drive into a personal concert. In the 4Runner, every journey becomes more than just a drive; it becomes a delightful experience filled with comfort, connectivity, and entertainment.
Safety First: The 4Runner's Pledge to Protect
When it comes to safety, Toyota's commitment to ensuring the well-being of its passengers is exceptional. The Toyota 4Runner's safety arsenal is led by the Toyota Safety Sense P (TSS-P), a comprehensive suite of features that promise to enhance your driving experience. The Pre-Collision System with Pedestrian Detection works tirelessly to prevent frontal collisions, monitoring the road ahead and alerting you to potential dangers. When a crash seems imminent, it can automatically apply the brakes, safeguarding you and your passengers.
Moreover, the 4Runner's Lane Departure Alert serves as a vigilant co-pilot. It observes road markings and alerts you if the vehicle is unintentionally drifting from its lane, significantly reducing the risk of potential accidents. Automatic High Beams add to the 4Runner's intelligence, adjusting to oncoming traffic and varying light conditions.
Complementing these features is the Dynamic Radar Cruise Control, which maintains a preset distance from the vehicle in front, adjusting speed as necessary. This feature augments your control over the car, especially during long drives and heavy traffic. Paired with an advanced airbag system and the vehicle's robust stability control, the 4Runner ensures that your safety is not compromised.
Test Drive a Toyota 4Runner at Lake Charles Toyota Today!
Embark on your journey with the Toyota 4Runner and experience its blend of power, comfort, and safety. Our team at Lake Charles Toyota, renowned for their knowledge and friendly service, is eager to help you explore the 4Runner. We offer a seamless purchasing process with our dedicated Finance Center and ensure your vehicle remains in optimal condition with our state-of-the-art Service Department.
Experience the thrill of the Toyota 4Runner. Visit Lake Charles Toyota today and take your adventure to the next level!
Back to Parent Page