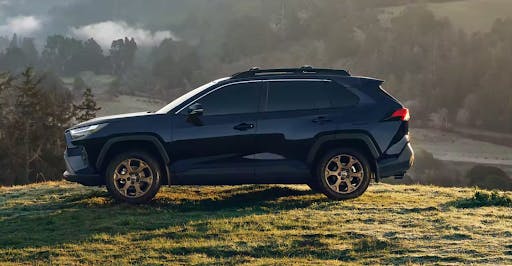 City Adventures Begin in a Toyota RAV4
The Toyota RAV4 stands tall as a true gem amongst small SUVs, melding robust performance and superior comfort. It's not merely a vehicle; it's a trusted comrade for every city explorer. 
Lake Charles Toyota firmly believes in the art of transforming every journey into an adventure, and there's no better companion than the RAV4 for this exciting venture. 
At Lake Charles Toyota, we have an exciting inventory of RAV4s waiting to be explored. We invite you to visit our dealership for a test drive. 
Unleash your inner adventurer and experience firsthand why the RAV4 is a favorite among city explorers.
Power Unleashed: Performance of the RAV4

The Toyota RAV4 defies the norms of typical compact SUVs with its robust performance. At the heart of this urban warrior is a potent 2.5L 4-cylinder engine delivering a hefty 203 horsepower, providing drivers with a lively ride that effortlessly responds to every command. 
The engine, paired with an 8-speed automatic transmission, guarantees a smooth and seamless driving experience every single time.
Driving in the city often presents challenges like narrow lanes and congested traffic. But fear not! 
The RAV4 comes to the rescue with its nimble agility. It sports a tight turning radius that allows effortless maneuvering through winding city roads and packed parking lots. 
The RAV4 has a sport-tuned suspension system, making even the roughest city streets feel like freshly paved highways. 
Whether navigating pothole-infested lanes or over unexpected bumps, the RAV4 absorbs the shocks, offering you and your passengers a comfortable and enjoyable ride. 
Standout Style: RAV4's Exterior Design

The RAV4's exterior design is a testament to Toyota's commitment to crafting vehicles that transcend conventional design boundaries. 
This SUV's muscular, chiseled shape asserts its readiness for any adventure. The sharp, cutting-edge lines along the body create a visual rhythm that captivates the viewer, while the aerodynamic silhouette not only contributes to fuel efficiency but also adds an elegant touch of refinement. 
The LED headlights and daytime running lights are functional and visually striking, casting a bright and clear path for your urban adventures while enhancing the RAV4's modern and stylish appearance. 
The available 19-inch alloy wheels don't just add to the visual allure; they offer practical benefits as well. 
In the RAV4, every drive becomes an opportunity to make a statement. Its distinctive exterior is designed to mirror the urban explorer's bold, dynamic, and undeterred personality. 
An Oasis of Comfort: RAV4's Interior Design

Step inside the RAV4, and you're immediately immersed in a sanctuary of comfort and convenience. With ample room to seat five passengers comfortably, this SUV invites you to bring your friends and family on your city adventures. 
The 60/40 split reclining fold-flat rear seats provide versatility, transforming your cabin into a vast cargo space in seconds. 
The RAV4 doesn't just offer space; it's a testament to Toyota's dedication to craftsmanship. 
High-quality materials envelop you in an air of sophistication, from the soft-touch dash to the leather-trimmed seats. 
The ergonomically designed driver-centric controls and comfortable seating enhance your driving experience, ensuring you feel at ease behind the wheel. 
Technology and innovation seamlessly integrate into the RAV4's design, serving as co-pilots on your city adventures. 
The advanced touchscreen infotainment system places entertainment, navigation, and communication features at your fingertips. 
Meanwhile, the wireless charging pad ensures your devices stay powered up, and the digital rearview mirror provides a clearer, broader view of what's behind you, enhancing safety. 
Pioneering Protection: Safety Features of the RAV4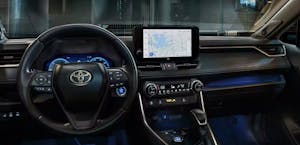 Toyota's commitment to your safety is evidenced by the RAV4's impressive array of standard safety features, the centerpiece of which is the Toyota Safety Sense 2.0 suite. 
The pre-collision system with pedestrian detection warns you when a collision is imminent and applies automatic braking when necessary, serving as a diligent co-pilot at all times. 
The lane departure alert feature ensures you maintain your lane by detecting unintentional drifting, while the adaptive cruise control seamlessly adjusts your speed according to the vehicle ahead. 
The RAV4 doesn't stop at standard features; it offers an array of advanced safety options to provide comprehensive protection. 
The blind-spot monitoring system alerts you to vehicles lurking outside your field of vision, promoting safer lane changes. 
Meanwhile, the rear cross-traffic alert system proves invaluable when reversing from parking spots, warning you of approaching vehicles from either side. 
Your Adventure Begins at Lake Charles Toyota

At Lake Charles Toyota, your urban exploration journey kicks off. Our dedicated sales staff is eager to guide you in selecting the perfect RAV4 model that caters to your unique needs and desires. 
Our well-versed Finance Center team is ready to walk you through the financing options, ensuring a hassle-free experience in getting the best deal.
Our relationship extends beyond your purchase. Our expert Service Center is committed to maintaining the peak performance of your RAV4, ensuring your city adventures are endless.
The Toyota RAV4 is not just a vehicle; it's a key to unlocking unlimited city exploration possibilities. Start your thrilling journey with Lake Charles Toyota.
Back to Parent Page