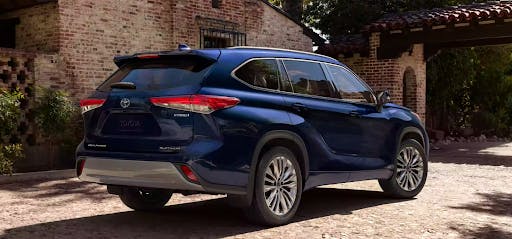 Discover Nature's Wonder in a Toyota Highlander
Have you ever felt the urge to veer off the beaten path and embrace the wonders of the great outdoors? To satiate this wanderlust, you need a trusted companion. 
Meet the Toyota Highlander. With its unique blend of power, reliability, and comfort, the Highlander takes you where you need to go, whether it's through dense forests, rugged terrains, or bustling city streets.
At Lake Charles Toyota, we believe in the transformative power of a good drive. A visit to our dealership opens up a world of possibilities. 
Imagine yourself behind the wheel of the Highlander, ready for adventure. Our dedicated team is on standby, ready to take you on an unforgettable test drive.
Unleashing Power and Performance
Underneath the Highlander's aerodynamic profile resides an engine that is anything but ordinary. 
Toyota's mighty V6 engine provides an outpouring of power that energizes the SUV, providing an immediate response to your every command. The Highlander scales effortlessly regardless of the terrain, from mountainous landscapes to cityscapes. 
Its advanced all-wheel-drive system further complements the engine's prowess, ensuring optimal traction on various surfaces.
Highlander's consistent delivery of a smooth and exhilarating driving experience makes it stand out. It's been engineered with a unique balance of power and ride comfort. 
The Highlander's suspension is tuned for comfort yet responds effectively to driver inputs. Its eight-speed automatic transmission delivers seamless shifts, while the Sport mode allows more engaging and dynamic driving. 
Design: The Alluring Exterior
Every inch of the Highlander's exterior design is a testament to Toyota's unwavering commitment to excellence. 
The SUV's bold lines and dynamic contours aren't just aesthetically pleasing; they signify the Highlander's robust capabilities. 
Its authoritative stance, whether parked in a bustling cityscape or nestled by a tranquil lake, reflects its ability to handle urban and wilderness terrains easily. 
But the Highlander's exterior design doesn't stop at being visually compelling. It's also highly functional and designed with the driver's experience in mind. 
The SUV is equipped with LED headlights and tail lamps, providing optimal visibility, crucial for safe driving in various light conditions.
Moreover, the Highlander's aerodynamic design isn't merely a stylistic choice. This thoughtful design enhances the vehicle's performance by reducing air resistance and contributing to better fuel efficiency. 
Every contour and every line is meticulously designed to strike a perfect balance between form and function. 
This isn't just a vehicle that catches the eye; it also performs impressively in diverse driving conditions. 
Design: Experience Luxury Within the Wilderness
Step into the Highlander's cabin, and you'll find a seamless blend of luxury and practicality. The interior design showcases a thoughtful layout, intuitively placed controls, and high-quality materials that rival premium SUVs. 
There's an unexpected air of elegance here. It's more than just an SUV – it's a mobile haven for you and your loved ones.
The generous legroom and headroom for all passengers add to the spaciousness. Combined with the substantial cargo space, even long, gear-heavy family road trips become a breeze.
The Highlander's plush seating is expertly crafted with comfort in mind. Whether on a quick trip to the store or a cross-country adventure, the supportive yet luxurious seats ensure maximum comfort. The optional leather upholstery adds a touch of luxury, further elevating your driving experience. 
The technologically advanced Highlander doesn't skimp on entertainment options, either. Its cutting-edge infotainment system is a command center for connectivity and entertainment. 
The user-friendly touchscreen interface, advanced navigation system, and smartphone integration features like Apple CarPlay and Android Auto keep you connected and entertained throughout your journey. 
Add to that the remarkable sound quality of the premium audio system, and every drive turns into an immersive experience. 
Safeguarding Your Adventures: Safety Features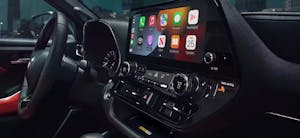 Safety is the cornerstone of every journey with the Toyota Highlander. Each model comes standard with the innovative Toyota Safety Sense 2.0. 
This advanced system incorporates a pre-collision system with pedestrian detection, a feature that can alert you to potential frontal collisions with vehicles or pedestrians and, in certain situations, automatically apply the brakes to prevent an accident. 
The Lane Departure Alert with Steering Assist is another aspect of the Highlander's standard safety package that ensures your vehicle stays in its lane. 
If the system detects any deviation from your intended path without a turn signal, it alerts you and can provide minor corrective steering input. 
The Dynamic Radar Cruise Control complements these features, automatically adjusting your speed to maintain a safe distance from the vehicle in front. 
But the Highlander doesn't stop at the standard. It goes the extra mile to enhance safety. Optional features such as blind-spot monitoring and rear cross-traffic alerts increase your awareness of your surroundings.
The blind-spot monitoring system warns you of vehicles in your blind spots to assist with safe lane changes, while the rear cross-traffic alert system warns you of vehicles approaching from the sides when you're reversing. 
Start Your Adventure at Lake Charles Toyota
It's one thing to read about the Highlander's wonders; it's another to experience them firsthand. At Lake Charles Toyota, we aim to make the latter a reality. 
Our friendly sales staff is eager to guide you through our extensive range of Highlanders, assisting you in finding the model that perfectly matches your lifestyle.
Our Finance Center is here to provide various finance options, making your dream car more accessible. Beyond the point of sale, our expert Service Center ensures that your Highlander remains in peak condition for many adventures to come.
Answer the call of the wild with the Toyota Highlander. Visit Lake Charles Toyota today for a test drive. Unleash your adventures and start creating unforgettable memories.
Back to Parent Page