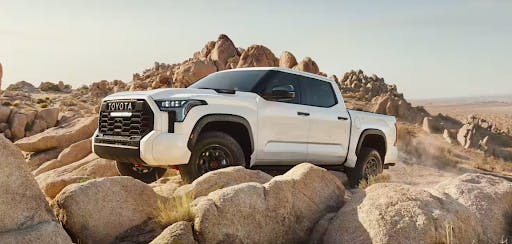 Tackle Work and Adventure in a Toyota Tundra
Say hello to the ultimate vehicle that perfectly marries work and play – the Toyota Tundra. 
Engineered to perfection, the Tundra effortlessly navigates the divide between durability, power, and comfort, making it a top choice for drivers seeking both a reliable work vehicle and an adventurous companion. 
This truck is a powerhouse and a finely crafted machine that exudes confidence and style on every road.
Experience the dynamic personality of the Toyota Tundra at Lake Charles Toyota today. 
Whether traversing bustling city streets or exploring the wild, untamed terrains, the Tundra ensures your journey is remarkable. 
Conquer the Road with Confidence
At the heart of this beast is an engine lineup that goes from the resilient V6 to the beastly V8. 
Both options ensure an extraordinary balance between power and efficiency. Whether hauling heavy equipment or cruising the highway, these engines churn out impressive horsepower and torque, ensuring the Tundra meets every challenge head-on. 
The Tundra's towing capacity is nothing short of remarkable. When it comes to carrying hefty loads, the Tundra stands unrivaled. 
It allows you to tow trailers, boats, and more easily. This towing prowess is supported by advanced transmission technology, ensuring smooth and efficient gear shifts regardless of the load. 
Beyond its raw power, the Tundra impresses with its advanced suspension system and adaptable 4-wheel drive. 
Whether traversing rough trails or navigating icy roads, these features ensure optimum control and stability. The Tundra can smoothly glide over bumpy terrains, ensuring comfort despite the conditions. 
A Rugged Yet Refined Design
The Toyota Tundra is more than a vehicle – it's a testament to refined ruggedness and sophistication. 
Its imposing bold grille is complemented by piercing LED headlights, creating a striking front fascia that demands attention. 
This commanding presence, paired with an elegantly sculpted body and muscular fenders, adds a compelling visual dimension and enhances the Tundra's aerodynamic performance, contributing to its fuel efficiency and stability at higher speeds.
The Tundra's formidable ground clearance and robust all-terrain tires communicate an unspoken pledge of unmatched off-road capabilities. 
The Tundra's exterior design facilitates remarkable adaptability, whether it's a steep mountain trail or a challenging desert expanse. 
Its high ride height and superior suspension articulation can overcome obstacles, providing drivers with confidence and peace of mind during their off-road adventures.
Beneath the truck's athletic and robust exterior lies an intricate design philosophy. 
Every curve and line on the Tundra has been crafted meticulously, manifesting this beast's inherent strength and endurance. It's not just about being tough; it's about looking the part. 
Your Sanctuary on the Road

The Tundra's interior is a master class in design, providing a seamless blend of form and function. 
Its spacious cabin is complemented by high-quality materials, accentuating the truck's luxurious ambiance. 
Whether you're hauling cargo or carrying passengers, the Tundra's generous interior proportions ensure that space is never a constraint. 
The ergonomic design of the dashboard places a wide array of controls within arm's reach, streamlining your driving experience. 
Beyond its impressive spatial offerings, the Tundra pampers its occupants with an array of comfort-focused features. 
The plush seats, available in fine cloth or premium leather options, provide exceptional comfort, making long drives a pleasure rather than a chore.
An advanced climate control system maintains an ideal temperature inside the cabin, regardless of outside conditions. 
Moreover, the Toyota Tundra goes beyond mere luxury and comfort. It embraces practicality, evident in its design DNA, and incorporates ample storage spaces, multiple power outlets, and intelligently engineered cup holders. 
The intuitive layout of controls and easy-to-read gauges improve the driving experience, while the versatility of the seating arrangements, including fold-up rear seats in some models, provides flexible cargo management. 
Your Guardian On the Road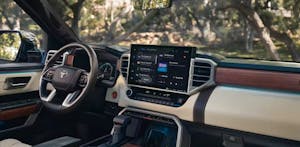 Safety is a cornerstone in the design of the Toyota Tundra, a vehicle meticulously equipped with both standard and advanced safety technologies. 
It features a comprehensive airbag system strategically located to protect all occupants. 
Additionally, the vehicle's anti-lock braking system ensures maximum control during sudden stops, while the stability and traction control systems provide a reliable grip on slippery surfaces and during harsh weather conditions.
The Toyota Tundra comes equipped with the Toyota Safety Sense suite, an advanced package designed to enhance your safety on the road. 
The Pre-Collision System uses radar and camera technology to detect potential collisions and can automatically apply the brakes if necessary. 
The Lane Departure Alert system uses visual and audible alerts to warn drivers when they unintentionally veer out of their lane, helping to prevent accidents caused by distracted or drowsy driving.
The Tundra also offers Dynamic Radar Cruise Control that automatically adjusts your speed to maintain a preset distance from the vehicle ahead. 
Additionally, features like the Blind Spot Monitor and Rear Cross Traffic Alert provide an extra set of eyes on the road, alerting you to vehicles in your blind spots or those approaching from the sides while you're reversing.
Visit Lake Charles Toyota Today and Drive Home Happy
At Lake Charles Toyota, we believe in delivering an exceptional dealership experience. 
Our friendly sales staff is always ready to assist you, ensuring you find the right Tundra from our expansive selection to match your unique needs.
Our Finance Center, staffed by financial experts, will help you explore and understand the best financing options. 
When it comes to maintaining your Tundra, you can trust our certified technicians in our Service Department to ensure your vehicle continues to perform at its peak.
Embark on your next adventure with a Toyota Tundra from Lake Charles Toyota. 
Visit us today and drive home in a vehicle that seamlessly blends work and adventure. Your perfect ride, a Toyota Tundra, awaits you at Lake Charles Toyota.
Back to Parent Page