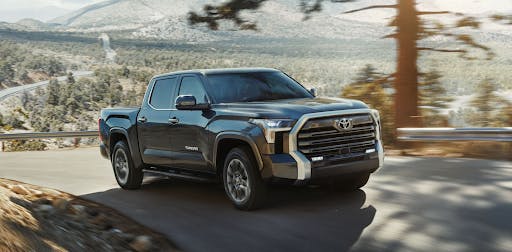 Tackle the Work Day in a Toyota Tundra
When you think about a dependable work vehicle that can handle any task you throw at it, the Toyota Tundra should be at the forefront of your mind. 
Known for its power, performance, and overall reliability, this pickup truck is not just another vehicle—it's an investment in your workday efficiency and comfort.
Here at Lake Charles Toyota, we understand that your vehicle plays a pivotal role in your daily operations. That's why we offer many Toyota Tundra models with various features and customizations tailored to your needs. Visit us at Lake Charles Toyota for a hands-on experience with a test drive.
Engineered Efficiency: The Toyota Tundra's Strength and Stamina
One of the defining characteristics of the Toyota Tundra is its robust engine lineup. The available i-FORCE 5.7L V8 engine delivers a compelling 381 horsepower and 401 lb-ft of torque, offering you the muscle you need for various tasks, from towing heavy equipment to carrying full loads. The engine pairs well with a six-speed automatic transmission, ensuring smooth gear shifts and efficient power distribution.
In addition, the Tundra features impressive fuel efficiency. While pickup trucks are not traditionally known for great gas mileage, the Tundra surprises with a balanced blend of performance and economy. Its fuel-efficient design ensures that you can drive longer distances without frequent stops at the gas station, making it ideal for both long hauls and short errands around town.
Tackling challenging terrains is yet another area where the Tundra shines. Optional off-road packages provide features like skid plates, off-road-tuned suspension, and all-terrain tires, allowing you to navigate through mud, gravel, or snow with confidence. 
The Tundra's Visual Appeal Meets Practicality
The Toyota Tundra brings together aesthetic design and practical utility in a way that's hard to match. Its exterior exudes strength with a bold front grille and sharp, angular LED headlights. 
Even the smallest details, like the chrome accents and optional 20-inch alloy wheels, are designed to elevate the truck's visual appeal while maintaining a no-nonsense approach to its work ethic.
Utility is a priority as well. The Tundra comes with a range of lengths, from the 5.5-foot short bed to the 8.1-foot long bed, all designed to handle heavy-duty tasks. Integrated tie-down points, a versatile tailgate that can be locked and lowered easily, and optional features like a deck rail system ensure you can carry your load securely.
A well-designed exterior is not just about looking good; it's also about improving your workflow. The Tundra incorporates intelligent design elements like automatic high-beam headlights for enhanced visibility and side mirrors with integrated turn signals for better communication on the road. 
The Comfort Zone on Wheels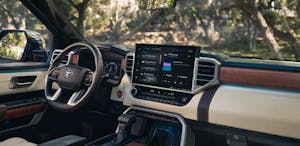 While the Toyota Tundra is designed to tackle tough jobs with ease, it also prioritizes your comfort during those long workdays. The cabin is spacious, providing ample legroom and headroom to accommodate you and your crew. 
The seating comes with leather-trimmed upholstery, heated and ventilated front seats, and power-adjustable lumbar support, ensuring a comfortable ride regardless of the journey ahead.
Storage shouldn't be an afterthought, and in the Tundra, it certainly isn't. The truck offers a variety of clever storage solutions, including a large center console, multiple cupholders, and even under-seat storage compartments in certain models. 
Technology complements comfort in this pickup. Features like a 9-inch touchscreen infotainment system, Android Auto and Apple CarPlay compatibility, and an available 12-speaker premium audio system keep you connected and entertained. 
A Fortress on Wheels: The Safety Aspects of the Toyota Tundra
The Toyota Tundra takes safety seriously, a feature as integral to its design as its impressive power and performance. Standard safety features include Toyota Safety Sense P, a suite of advanced active safety technologies. These include Pre-Collision System with Pedestrian Detection, Lane Departure Alert, Automatic High Beams, and Dynamic Radar Cruise Control. 
Not only does the Tundra come equipped with basic safety measures, but it also offers optional add-ons to further enhance your driving experience. For example, the available Blind Spot Monitor (BSM) and Rear Cross-Traffic Alert (RCTA) add an extra layer of awareness to your drive. BSM warns you when a vehicle enters your blind spot, while RCTA assists in alerting you of approaching vehicles when you're backing out of a parking spot. 
Additionally, the Tundra offers robust built-in structural features for increased safety. With its high-strength steel body construction and eight airbags—including front, side, and curtain airbags—the Tundra is designed to protect you in the event of an accident. Anti-lock braking systems and electronic brake-force distribution further support you by optimizing brake performance based on the load you are carrying.
Lake Charles Toyota is Your Destination for the Ultimate Tundra Experience
From power and performance to exceptional safety features, the Toyota Tundra is a reliable partner for any workday challenge. But what completes this package is the comprehensive customer experience you'll enjoy at Lake Charles Toyota. Our expert sales staff is knowledgeable and committed to helping you find the ideal Tundra to suit your needs. 
We also understand that purchasing a vehicle is a significant investment, and our Finance Center is here to assist you in making the most informed decisions. We offer a range of financing options and lease agreements to make your buying process as smooth as possible. 
Our Service Department is staffed with certified technicians to ensure your Tundra stays in optimal condition for the long haul. Maximize your workday, and visit Lake Charles Toyota for a test drive today!
Back to Parent Page