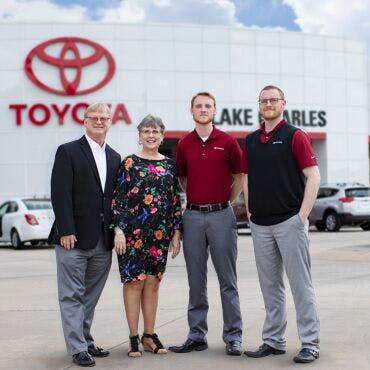 Meet the Tarvers
The Tarvers do business the way they do life. Putting the customer's experience first requires a servant's attitude, an unparalleled work ethic and on occasion, sacrifice. "In any relationship, with your spouse, your children, parents, you build the relationship by putting the other person first," said Eric Tarver, CFO, "and sometimes at Lake Charles Toyota that commitment has meant we've had to do some things that didn't necessarily benefit the company -- in the short term." But the Tarvers are in it for the long haul.
"People are fed up with the industry and I can't blame them," said Corey Tarver, Lake Charles Toyota General Manager.
"Some of them have a history with a dealership where they were charged for service they didn't need... or the salesperson tried to pull the wool over their eyes. That's not how we operate." We challenge our customers, and employees, to "Raise your expectations" of what a dealership should be. We think Lake Charles Toyota has moved the needle in Calcasieu Parish.
"I've been in the industry for over 30 years and it didn't take long to figure out that offering a car dealership experience unlike what most people expect - and usually dread - is an ideal way to do business," said Phillip Tarver.
"Back when Phillip entered the industry, I would wager some car salesmen did not go to bed feeling good about what they did for a living," said Dewanna Tarver.
"There was a time - at the very beginning - when I didn't feel good about telling certain people what my husband did for a living." This made for some interesting conversations about what the couple could do to change that mindset. It boiled down to trust and building relationships, not the easiest or fastest way to sell cars. It required steady, consistent attention and genuine interest in each person who came through the doors.
Our lives are about serving other people. Whether that be on TV honoring educators, providing meals at area schools, or at a McNeese ball game rooting on the Pokes. You may see our wood burning grill on wheels out cooking for our community. We are honored to support athletes, the Pride of McNeese Marching Band, child safety programs and DeWanna's Closet. We have even found ways to honor students who don't get the recognition athletes do and have begun a High School Esports league.
"Can you imagine if we could get this message out to the world," Phillip said. "If we all cared about our fellow man and the person we're dealing with every day, every time, without fail, no exception? I am not saying I have done everything perfectly or everything goes exactly the way we want it to every day at the dealership, but I think it's always important to strive to do better. The Japanese have a good word that means constant, continuous improvement, kaizen. If a customer thinks something isn't right, we want to know about it."
Knowing you can trust the dealership where you purchase your car is just as important as knowing the car's safety rating, how it's ranked in reliability studies and what to expect in terms of resale value.
Back to Parent Page