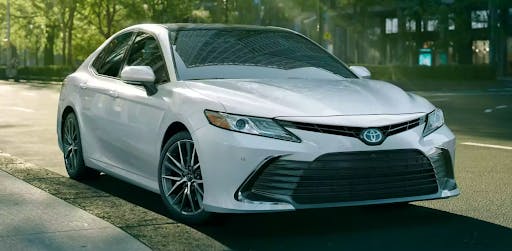 Keep Your Toyota Camry in Great Shape by Scheduling Preventative Maintenance
Preventative maintenance is the cornerstone of keeping your Toyota Camry running smoothly and efficiently. 
Regularly scheduled maintenance ensures your vehicle's safety and maximizes its performance, helping you avoid unexpected breakdowns and costly repairs. 
At Lake Charles Toyota, we understand the importance of preventative maintenance, and our team of certified technicians is here to help you keep your Camry in prime condition.
Why wait for an issue to arise when you can prevent it? Lake Charles Toyota offers a comprehensive range of maintenance services tailored to your Toyota's specific needs. 
Our factory-trained experts are equipped to handle everything from oil changes to brake inspections. 
Schedule your preventative maintenance appointment with us today and drive confidently, knowing your Camry is in the best hands. Contact Lake Charles Toyota to keep your Toyota Camry in great shape!
What is Preventative Maintenance?
Preventative maintenance is a proactive approach to vehicle care. It focuses on regular inspections and service to catch potential issues before they become significant problems. 
It's not merely about fixing something when it breaks. Instead, it's about regularly monitoring key components to ensure optimal conditions. 
This approach minimizes the risk of unexpected breakdowns and maintains the efficiency and performance of your vehicle.
The preventative maintenance components vary depending on the vehicle's make, model, and age. Common procedures include:
Regular engine oil and filter changes

Brake inspections

Tire rotations

Fluid checks and adjustments
By adhering to the manufacturer's recommended maintenance schedule, you can help preserve the integrity of the engine, transmission, brakes, and other critical systems. 
This enhances the overall longevity of the vehicle.
Preventative maintenance is not just a recommendation. It's an investment in your vehicle's future. Regular maintenance can improve fuel efficiency, and it provides smoother handling and a more enjoyable driving experience.
Most importantly, it provides peace of mind, knowing that your car is being cared for in a way that prioritizes your safety on the road. 
Why Preventative Maintenance is Important
Preventative maintenance is about more than just keeping your vehicle running. It's about ensuring safety, performance, and reliability. By engaging in regular maintenance, you are taking active steps to:
Enhance your vehicle's overall performance

Increase fuel efficiency

Reduce the risk of sudden breakdowns

Prolong the lifespan of your vehicle
Neglecting preventative maintenance can lead to a host of problems. Worn-out brakes, unbalanced tires, depleted fluids, and dirty filters are more than inconveniences. 
They can reduce handling, decrease fuel economy, and pose serious safety risks. Regular inspections and timely interventions prevent these issues, keeping you and your loved ones safe on the road.
Investing in preventative maintenance is a long-term decision that pays off. By identifying and addressing minor issues before they escalate into major problems, you save time and money in the long run. 
Plus, a well-maintained vehicle retains its value better, offers a more enjoyable driving experience, and contributes to a greener environment by operating more efficiently. 
In essence, preventative maintenance is a commitment to responsible ownership and peace of mind.
How Lake Charles Toyota Can Help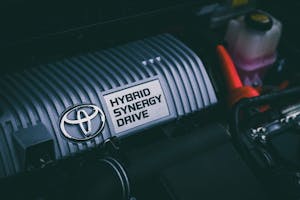 Lake Charles Toyota is your trusted partner for all your Toyota Camry's preventative maintenance needs. 
Our factory-trained technicians are equipped with the latest tools and technology, ensuring your vehicle receives the best care possible. 
From routine oil changes to comprehensive brake inspections, we provide top-tier service that aligns with Toyota's high standards.
At Lake Charles Toyota, our dedication to genuine Toyota parts and tailor-made service plans sets us apart. We understand that every Toyota is unique, and our team is committed to offering personalized maintenance solutions that suit your vehicle's make, model, and age. 
With our genuine Toyota accessories, service fluid replacement, tire services, and more, you can rest assured that your Camry is receiving quality care that preserves its integrity and performance.
Your convenience is our priority at Lake Charles Toyota. With offerings such as ToyotaCare, Toyota Express Maintenance, and urgent Takata airbag recall services, we ensure your maintenance experience is simple and hassle-free. 
Trust Lake Charles Toyota and experience the difference in quality, care, and commitment to keeping your Toyota Camry in top shape.
Toyota's Unique Approach to Preventative Maintenance
Toyota's approach to preventative maintenance goes beyond industry standards, focusing on long-term reliability and customer satisfaction. 
With the implementation of ToyotaCare, the brand offers a no-cost maintenance plan with the purchase or lease of every new Toyota vehicle for two years or 25,000 miles, whichever comes first. 
This commitment showcases Toyota's dedication to providing its customers with continued support and peace of mind.
Another aspect of Toyota's unique approach is the Toyota Express Maintenance program. It includes vital services like oil and filter changes, brake inspections, tire rotations, and fluid inspections.
Engine oil plays a crucial role in the well-being of your Toyota, reducing friction and heat. 
The Toyota Express Maintenance program ensures that these essential tasks are done with precision and speed, using factory-recommended oil and genuine Toyota parts.
Keep Your Toyota Camry Running Like New with Help from Lake Charles Toyota
Your Toyota Camry is an investment in quality, comfort, and performance. At Lake Charles Toyota, we are committed to ensuring your Camry stays in peak condition through our comprehensive preventative maintenance services. 
From routine inspections to specialized care, our expert technicians provide personalized solutions that match Toyota's renowned standards.
Don't wait until a minor issue becomes a major problem. Schedule an appointment today with Lake Charles Toyota, and let us take care of your Camry's maintenance needs. 
With our unique approach and unmatched service, we'll keep your Toyota Camry running like new for years to come. 
Contact Lake Charles Toyota and experience the difference in quality, trust, and commitment to excellence.
Back to Parent Page