Experience Pure Performance in the Toyota Supra in Lake Charles
After much anticipation the wait is over. The 2020 GR Supra is back and better than ever.  This coupe is all about performance for the ultimate driving experience.  From the stunning sporty exterior to the horses under the hood, you'll be taking the long way home, every time.
Stellar Performance

The inspiration for the 2020 Supra is simple: Toyota wanted to design the best driver's car.  Under the hood, a 3.0-liter twin-scroll turbocharged inline six engine redefines responsiveness, letting you control the throttle with millimeter precision. The Engine is located as far back, and as low, as possible.  This optimizes the center of gravity for the 50:50 front/rear weight distribution. A precise chassis, adaptive suspension, and Michelin® Pilot® Super Sport tires ensure that the Supra drives just as beautiful as it looks.  It pumps out 335 horsepower and performs a 0-60 mpg in 4.1 seconds.
Beautifully Engineered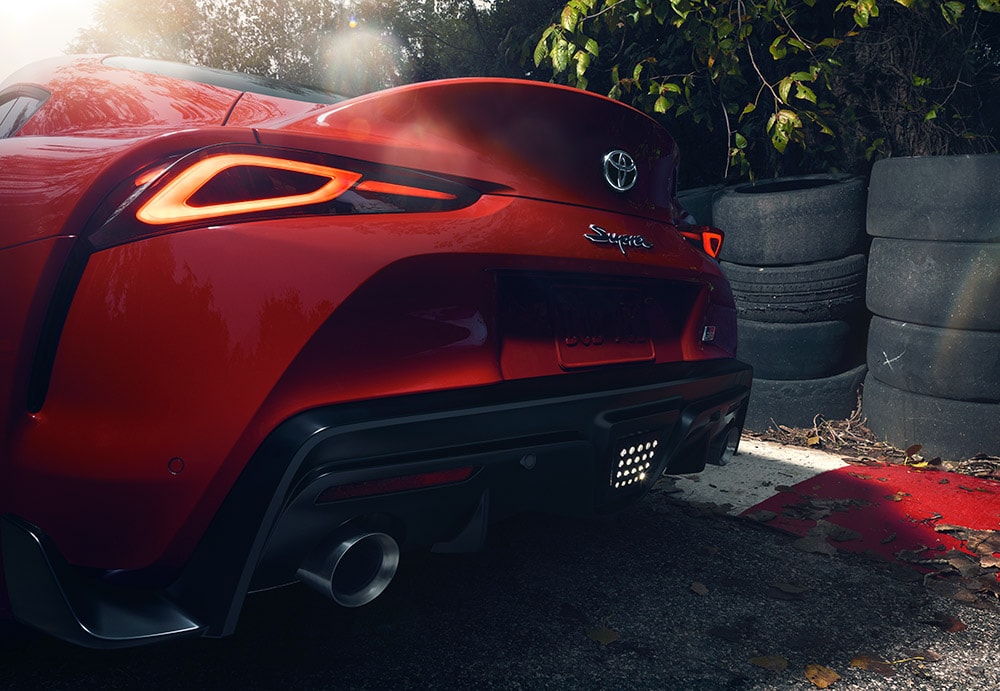 The 2020 Supra makes a bold and aggressive entrance with its exterior design.  It features an athletic stance, jewel-like LED headlights and many other expressive details that catch the eye. Up front, its wide grille is made to channel cool air directly to the turbocharged engine, optimizing performance. On the top, its "double-bubble: roof adds extra space in the interior while reducing aerodynamic drag outside. The flared rear spoiler does more than just make a statement, it also helps to reduce body lift and helps keep the Supra planted when driving at top speeds.
If you are a driving enthusiast and have been waiting for the next performance vehicle, you are in luck because the 2020 Toyota Supra is the complete package. The all-new Supra is available at our dealership near Calcasieu Parish and Sulphur LA now. Imagine all the joy you'll get taking on twists and turns in a car that knows how to handle them the way driving should be.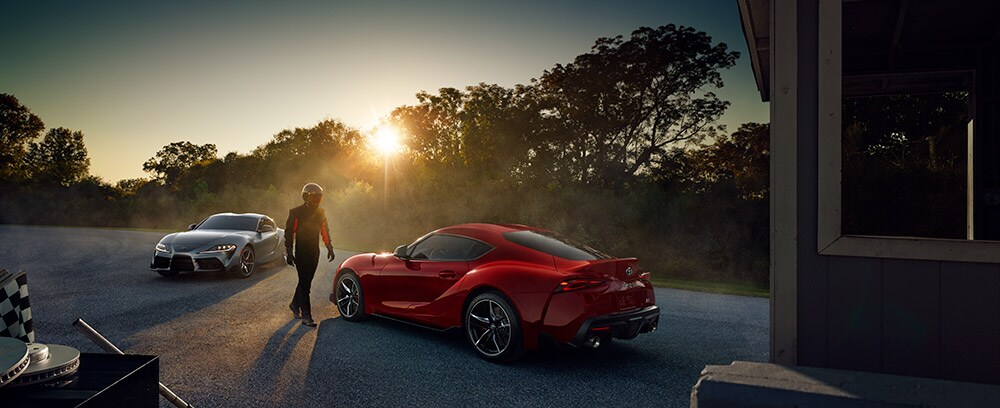 The 4-Cylinder Toyota Supra
When Toyota introduced a more economical Supra model with a smaller engine, fans were excited that the automaker listened to their longstanding pleas. Not only did Toyota listen to consumers' desires to produce a new four-cylinder engine, but they did so with two engine options that feature four cylinders. This allowed Toyota to compete aggressively with other Lake Charles, LA sports car manufacturers that specialize in high-performance and innovative design.
The Power of a Four-Cylinder
As a mark of its versatility, the new Toyota Supra released not only one but two four-cylinder engine variations. While one version produces up to 194 horsepower and puts out up to 236 pound-feet of torque, the other has a bit more bite at 225 horsepower and 295 pound-feet of torque. These two engines are slightly different but are predicted to boost the Supra from zero to 60 in just five seconds. Though the four-cylinder of the Toyota Supra isn't a match for its six-cylinder relative, the newest Supra model doesn't fall far behind. In fact, it averages just one second less than its six-cylinder counterpart in a zero to 60 mph sprint.
Lighter Weight, Yet More Attitude
Despite its less capable engine, the Toyota Supra four-cylinder can adeptly keep in close range to its six-cylinder counterpart due to its lightweight makeup. Weighing in at just over 3,100 pounds, this version of Toyota's Supra is at least 200 pounds less than it's six-cylinder relative. With a difference of two cylinders, smaller rotors and a swap out for fewer pistons, the four-cylinder Toyota Supra, is lighter overall.
Standard Fuel Efficiency for a Compact Sports Car
The new Toyota Supra four-cylinder is small but powerful, leaving it limited to its fuel efficiency. With a fuel economy of 25 mpg in the city and 32 mpg on the highway, this car ranks average in its fuel efficiency. For buyers looking for a daily driver with potential or a weekend warrior with ample power, the Toyota Supra four-cylinder is a viable option. If you are interested in trying this vehicle out in person, come into Lake Charles Toyota today.
Contact our team today to request more information about the 2020 Toyota Supra!